Contact McNamara & McNamara
Thank you for your interest in our Law Firm. In order to contact us, please use the information provided below:
Contact Information
Direct Line: (818) 465-0222
FAX: (818) 465-0223
Email: mchelp@mcandmclaw.com
Mailing Address: 14401 Sylvan Street. Suite 106. Van Nuys, CA 91401 (MAP)
CLICK HERE to get our vCard.
Make a payment with PAYPAL.
Contact Form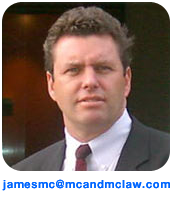 LOCATION
Our office is conveniently located right next to the fire station, across the street from the Van Nuys Court House or Court Yard. We are located on the corner of Sylvan and Sylmar, right in the heart of Van Nuys. Handicap accessibility is not a problem, as my office is on the first floor of a small office building.

Parking is available to our clients, and even for consultation with our offices. But be warned, the Landlord will tow all vehicles not authorized, and without a day pass on the vehicle. In part this is due to the location being so near the courthouse and Government center. If they did not tow from this parking lot, it would overflow. However, as long as you have a valid day pass, which can be obtained from this office, and we know the general make and model of your vehicle, your car is safe for parking in this lot. Please remember to ask for you're parking pass, and place it immediately in the inside front windshield of your vehicle.
NOW SERVING: Los Angeles County, CA: Agoura, Beverly Hills, Burbank, Calabasas, Century City, Chatsworth, Culver City, Downtown Criminal Court, El Segundo, East Los Angeles, Eastlake, Encino, Glendale, Glendora, Hermosa Beach, Hidden Hills, Hollywood, Huntington Park, Inglewood, Los Angeles Lawyer, La Canada, LAX Court, Los Padrinos, Los Angeles Attorney, Malibu, Manhattan Beach, Marina Del Rey, Newhall, Palos Verdes, Pasadena, Rancho Palos Verdes, Redondo Beach, San Fernando, San Marino, Santa Clarita, Sherman Oaks, Sierra Madre, Santa Monica, South Pasadena, Sylmar, Torrance, Universal City, Valencia, Van Nuys, West Covina, West Hollywood, West Hollywood, Westlake Village, Whittier, Woodland Hills, California. Orange County, CA: Anaheim, Anaheim Hills, Buena Park, Costa Mesa, Fullerton, Garden Grove, Huntington Beach, Irvine Attorney, Laguna Beach, Laguna Hills, Laguna Niguel, La Habra, La Palma, Mission Viejo, Newport Beach, Orange, Orange County Lawyer, Rancho Santa Margarita, San Clemente, San Juan Capistrano, Santa Ana, Seal Beach, Tustin, Villa Park, Westminster, Yorba Linda, California. Ventura County, CA: Camarillo, Moorpark, Oxnard, San Buenaventura, Simi Valley, Thousand Oaks, Westlake Village, Ventura, Port Hueneme. San Louis Obispo County. Santa Barbara County. San Bernardino County, CA: Ontario, Rancho Cucamonga, Upland.