James E. McNamara, Esq.

California State Bar Number 151417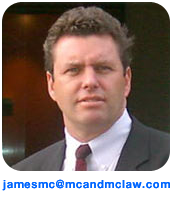 The highlights of James E. McNamara, Esq. includes a not guilty verdict in an attempted murder charge by the Los Angeles District Attorney's office. His client walked out of jail at the conclusion of trial with the potential risk of a life sentence. On a daily basis he handles all types of Criminal Matters, Dependency matters, Family Law matters and Probate matters including creating Wills and Trusts. His office is conviniently located in the heart of Van Nuys, accross the street from the Van Court house. Mr. McNamara deals with cases in all areas of Souther California.
Mr. McNamara has litigated hundreds of sex abuse, physical abuse, and domestic violence cases in both Dependency, Family Law cases, and Criminal courts. One of his specialties is cross over cases, meaning when a client has cases pending in several arenas at the same time. He has litigated and won significant sums in in civil matters, getting significant damages and attorney's fees for his clients. This includes contractor/homeowner disputes, collections of unpaid monies, breech of contract and many other types of matters. Mr. McNamara has attained a wealth of experience and has achieved very successful results for his clients.
Mr. McNamara began practicing law in November 1990, and soon thereafter joined his father, Leo F. McNamara. Even before he attained his law degree, James worked with his father--during law school, post-law school and continues to work with him on selected cases to date.
In addition, Mr. McNamara gained pre-License experience with the District Attorney's office in Los Angeles County, the Deputy Public Defender's office in Santa Cruz, and worked as a clerk in a prominent products liability / personal injury firm in the San Fernando Valley.
Upon passage of the bar in 1990, Mr. McNamara worked for a boutique firm in Pasadena, which specialized in both civil, real estate litigation matters, and white-collar crime cases. In 1993, Mr. McNamara's entrepreneurial spirit motivated him to enter practice as a private practitioner.
Since then, James has represented hundreds of minors, parents, foster parents and guardians in juvenile dependency matters. During the past seven years, Mr. McNamara has represented clients in all of the following areas of the law: serious criminal felonies and misdemeanors, business/contract matters, personal injury matters, estate and trust planning matters, and criminal juvenile law.